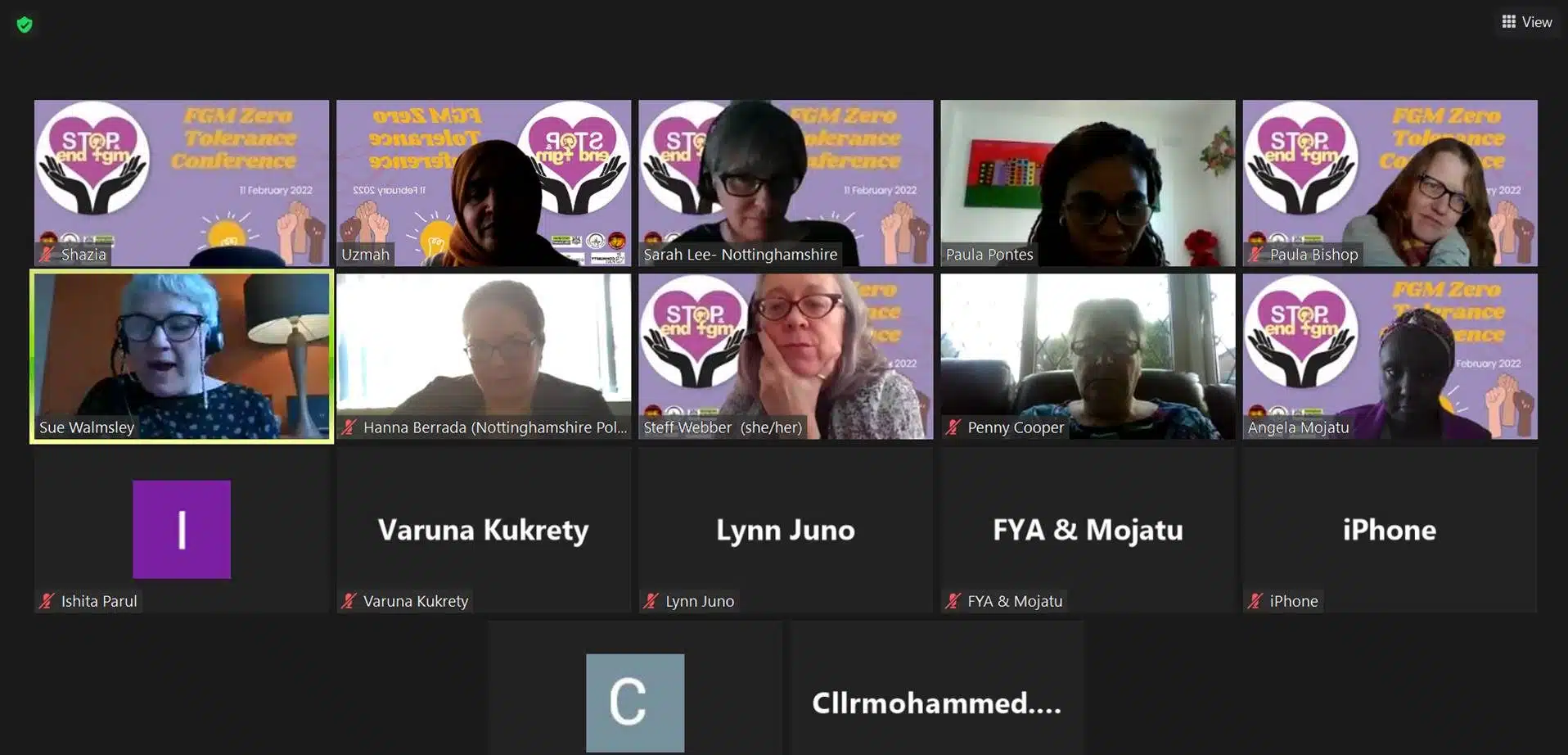 Nottingham is the first City in the UK to declare a zero-tolerance stance on Female Genital Mutilation (FGM). Agenda of the Zero Tolerance Conference was to discuss how to create awareness training and make pathways to help eradicate the practise of FGM. The participating speakers were from Mojatu, the Nottingham City Council, the Nottingham Police, NHS, Social Workers and Community Ambassadors with the motive/ slogan-
LET'S WORK TOGETHER TO EFFECTIVELY PUT AN END TO FGM.
FGM is associated with cultural ideals of femininity and modesty, which include the notion that girls are clean and beautiful after removal of body parts that are considered unclean, unfeminine or male (WHO, 2022). This thought process can be changed by raising awareness through conferences, having social spaces to bring women together and create safe spaces for discussion and dialogue aiding in self-empowerment and growth.
Some people believe that the practice has religious support, although no religious scripts prescribe the practice. Religious leaders take varying positions with regard to FGM: some promote it, some consider it irrelevant to religion, and others contribute to its elimination (WHO, 2022). Community engagement practices involving men and authority figures from diasporic communities can make a positive impact. When informed the community and religious leaders and medical practitioners can prove to be effective propagators of abandonment of the practice.
Normalizing discussions about FGM by breaking down barriers and stereotypes within communities and the public is an essential step towards the eradication. Collaborating with local organisations, and local forces of power can aid with better detection, awareness and empowerment of FGM survivors and reduce the prevalence of the practice. Family support involving men and all members of the family to build a community wide awareness and understanding to stand against FGM should be given priority. Making information accessible to everyone in community centres and having trained representatives in communities that women feel comfortable to approach. To work towards offering a safe space for survivors of FGM to talk about their experiences in anonymity, offering vital therapeutic support and counselling services amidst cultural and religious sensitivities. These services are often the first opportunity women have to openly discuss the impact of FGM on their physical and mental health.
No child should ever be subjected to FGM, and the practise is now a Criminal Offense. Since 1985 when the Prohibition of Female Circumcision Act was passed (The Female Genital Mutilation Act 2003 replaced the 1985 Act in England, Wales and Northern Ireland), the Act introduced measures to enhance the protection of vulnerable children and others, by strengthening the law to tackle FGM and domestic abuse. With more awareness and training for teachers and support staff in schools, FGM is now more widely known in schools, thanks to the guidance including Keeping Children Safe in Education. Open discussions in schools so the next generation has awareness of issues and feel open to discussions. Getting the government to include educational knowledge about FGM in the national curriculum science and ensure that young women attend sexual health clinics with access to specialist counselling and support, created open discussions in schools; so, the next generation has awareness of issues and feel open to discussions.
Wellbeing and Midwifery clinic in the community with confidential and a non- pressurising environment should be established in Nottingham where women feel comfortable to talk with anonymity. More support for the supporters of survivors should be instituted to ensure that they can continue with their work surrounding FGM by creating more awareness and the sensitivity around it through speaking different languages. 
By Varuna Kukrety